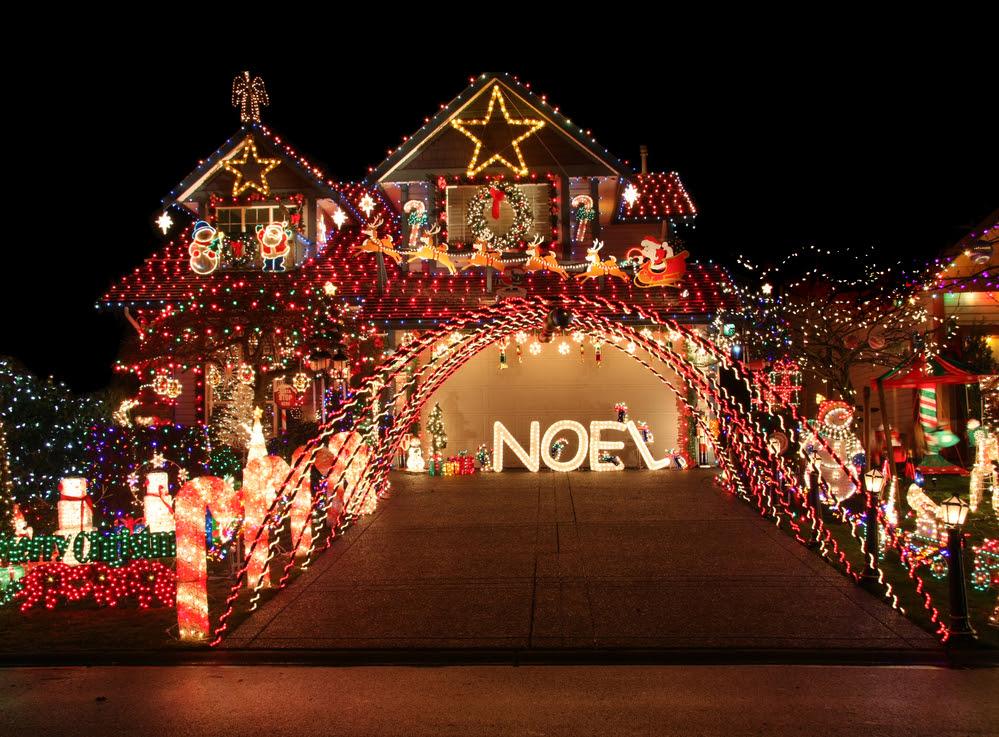 One of the most enjoyable parts of the holidays is the lights. During the holiday season, millions of people go out to set up their own Christmas lights as well as look at other's festive light setups. Holiday light displays are particularly popular across the entire state of Colorado, and they look beautiful with all of the snow as a cheerful backdrop.
Having an ornate set-up of Christmas lights may be one of the best parts of the holiday season, but it also really runs up your energy bill. If you have an elaborate light display that you run every night of the holiday season, you can just imagine your energy meter spinning out of control. So what are some of the ways that you can have an incredible light show during the holidays without the rampant increase in electrical costs? 
How to Setup an Energy-Efficient Holiday Light Show 
1) Use LED Lights
The reason that most people in Colorado spend so much money with their holiday light show every year is that they are using a lot of the wrong kinds of lights. The majority of lit-up homes that you see during the holiday season have old-school bulbs that are soaking up a lot of energy to stay bright. 
It may cost you a little more cash on the front end, but one of the best ways that you can save money and energy with your holiday lighting setups is to use more energy-efficient lights. By using light emitting diode (LED) Christmas lights, you are going to keep your energy bill much lower. In fact, it could be a fraction of the cost of what it was when you were using your old Christmas lights. 
2) Use Lights Strategically 
When it comes to holiday lights, it is easy to get carried away. One of the fastest ways to run up your energy bill during the holidays is by getting over-excited with your Christmas lights. Of course, everyone loves that house on the street that is shining like the sun and covered with hundreds or even thousands of bulbs. However, it's popularity does come at a price.  
Now that we have already discussed using more energy-efficient LED lights, let's talk about how you can use the bulbs that you have more strategically. One of the best ways that you can start is by recognizing that you don't need to cover every inch of your property. This includes things like the trees, shrubs, mailbox, and your lawn. 
Sometimes the "less is more" approach is the best possible method that you can use when it comes to decorating your house for the holidays. In fact, many times all you need is one or two strands of lights for a bush or a tree in your yard. You can get tons of great ideas online for how you can get a better look with fewer Christmas lights. 
3) Set Your Lights on a Timer 
Another one of the biggest reasons that people run up their energy bills during the holiday season is that they are operating their lights around the clock. Even when they aren't home or are on holiday vacation, they choose to run their lights or leave them on all night and all day. 
Thankfully, technology has given us the ability to set everything in our lives to a timer. Another great way that you can save money and energy over the holiday season is to set your lights on a timer. There is no reason that you need to run your lights all night long. 
Here are some things to consider when setting up your timer settings. 
l  What is the latest time that people are going to be coming by to check out your Christmas lights?
l  When is the absolute latest that you are actually going to be enjoying your own Christmas lights?
l  When are your lights going to be the most (or the least) visible? 
We would highly recommend getting an electronic timer that you can set your Christmas lights to so that you can designate when they are going to be on, as well as give them a hard shutoff time. 
4) Solar Powered Lights 
This is another great energy saving tactic that most people don't think about. Getting some solar-powered Christmas lights will really help you save money and energy this holiday season. What's nice about having solar-powered Christmas lights is that the solar panels they use will be able to take in all of the power that they need during the daytime, allowing them to stay bright all evening. 
Thank you for reading our blog! How can we help you? Contact us today.