The Home Energy Rating System (HERS) Index is the INDUSTRY STANDARD by which a home's energy efficiency score is measured. It's also the NATIONALLY RECOGNIZED system for inspecting and testing a home's energy performance—over 3 million homes in the United States have been HERS rated.
E3 Power is a certified home energy rater offering HERS rating services for homes throughout Colorado, including the greater Denver area. Our HERS rating costs include everything from provisional rating to confirmed rating, including:
Insulation inspections
Blower door testing
Duct blasting
CONTACT E3 POWER FOR A HERS RATING QUOTE TODAY
Try RESNET's Interactive HERS Index
Discover what the HERS rating index is and how different HERs ratings correspond to energy efficiency and heating and cooling costs in a home by using this handy interactive calculator from RESNET:
WHAT IS A HERS RATING?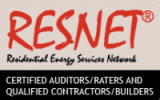 A RESNET HERS rating shows how energy efficient a home is. You can get a HERS rating score for a new home after construction is completed, or for an existing home after energy retrofits like upgraded insulation and air sealing are completed.
E3 Power uses software provided by Architectural Energy Corporation called REM/Rate to calculate a home's HERS rating score. The rater is required to enter detailed data on the home being rated, whether the home is new construction or an older home. It is divided into numerous sections including:
Foundation
Basement
Walls
Roof
Windows
Mechanical
Hot water
Insulation
Appliances
Lighting
Renewable energy
and more
REM/Rate calculates the heating and cooling loads, duct tightness, home airtightness, and HVAC efficiency of the home based on testing the input data and issues an index score between 0 and 150. The lower the score, the more energy efficient the home is.
WHAT IS AN AVERAGE HERS SCORE?
According to RESNET, the average HERS index score for homes tested in 2021 was 58. A new home built to the International Energy Conservation Code (IECC) 2006 standard has an index score of 100. An index of zero means the home is net-zero.
Each one-point reduction in the HERS Index corresponds to a 1% decrease in energy consumption as compared to the imaginary reference home. A home with a HERS Index of 60 uses 40% less energy than the code minimum home of the same shape and size. It is important to note that a large home will most likely use more energy than a small home, assuming both homes are the same HERS index.
ENERGY CODE COMPLIANCE
The REM/Rate software E3 Power uses for HERS ratings also issues reports to the homeowner that include IECC and ENERGY STAR compliance. These reports are important as they are required by municipalities that have adopted the latest IECC codes to obtain a building permit.
E3 Power also provides insulation inspections and compliance checks for home renovations requiring energy code compliance. Many municipalities now require the HERS rater to sign off on insulation inspections, blower door testing, and duct blasting to ensure quality work by the contractor and compliance with the relevant energy codes.
Get a HERS rating for your Colorado home with E3 Power. Call 303-292-1233 or contact us to schedule an appointment with a certified HERS rater near you.